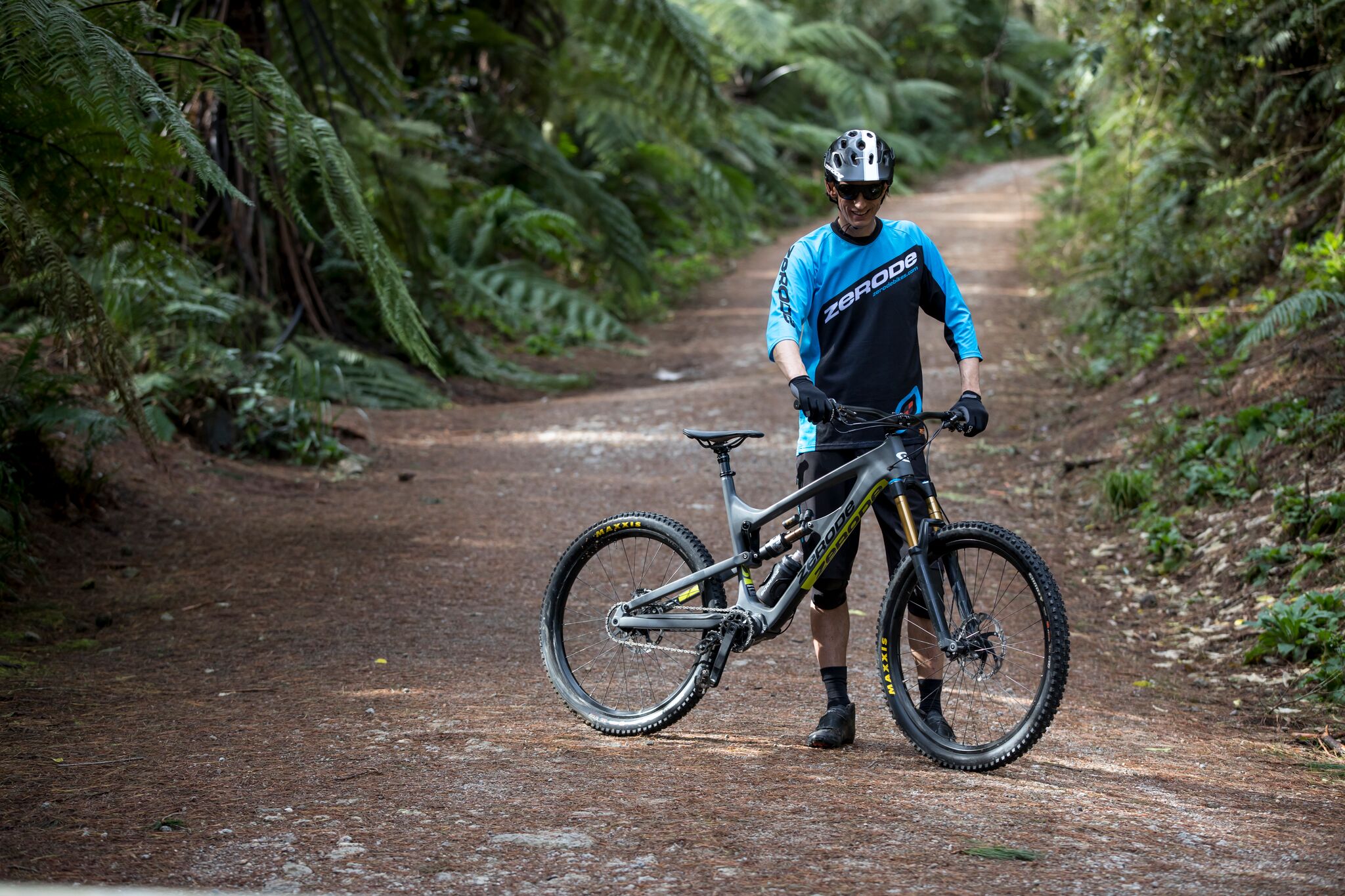 Where We Began
Zerode is a collaboration between two long time mountain bike enthusiasts Rob and Ali. We have been involved with mountain biking since the mid eighties and have both owned numerous bikes over the years.
It has grown out of a devotion to a better riding experience. It is a combination of many years experimenting with bike designs and years aboard them testing, developing and refining.
Rob Metz:
"Engineering isn't so much a career as a calling for me. Growing up I spent my time designing and building everything from radio control gliders, yachts, and surfboards to telescopes. While studying Mechanical Engineering at the University of Auckland I was introduced to mountain biking, and with a background in BMX it wasn't long before I was representing New Zealand in downhill, exploring our back country, and questioning the latest thinking in mountain bike design, which seemed to often be at odds with what I knew to be better ways of achieving the desired outcomes.

The logical step to satisfying my passion for mountain biking and design was some involvement in the bicycle industry. This evolved into roles designing and building bicycles, which led to the founding of Zerode in 2011.

Ultimately the aim of Zerode is the design and production of the ultimate mountain bike, with long travel trail bikes being my weapon of choice since the mid 90's. The Zerode Taniwha is the final step in the evolution of the ultimate do everything mountain bike, and what Zerode was created to achieve".
Ali Quinn:
"After a chance meeting with Rob in the forest in early 2015, and a five minute ride on his Zerode bike, I knew the future of mountain biking. I can still close my eyes and remember that first run - along Under Billy across the road into Sesame Street and down to the shuttle - the bike was silent, it floated and for five minutes I was a faster and smoother rider. The addiction of suddenly being better at something I love doing was real and it was the hardest thing to give Rob back his prototype.

I've ridden and raced bikes for well over half of my 40 odd years. I have seen a progressive change and improvement, every time I got a new bike it was better than the previous one, but they still all felt similar. Riding the Zerode was a step change, it was simply faster and more enjoyable.

I come from an IT background, and had co-founded a software business that grew from tiny start up to the market leader across multiple countries. I had experienced the way a great idea can be grown from a small niche into something that impacts people across the World. I knew Rob and I could combine his vision and innovation with my resources and experience to allow us to bring the Zerode prototype to life and to do it justice without compromise. The Taniwha is that bike and I'm stoked."
What it looks like inside our head quarters
We often get people asking if they can have a look around our head quarters so we thought we would give everyone a look into the behind the scenes of what happens at Zerode. From here we do everything from bike design to customer service to bike building and distribution. We do it all. It's a pretty small operation but we're proud of how happy every single one of our customers are and how good of a review they give our bikes. There's a few secret projects on the go, see if you can spot them in the video.
Where to Next
The last decade has seen remarkable advances in mountain bike technology, design and geometries. We were there to witness them all and are very enthusiastic about the next evolutionary stage in mountain biking - the gearbox! Zerode will continue to push against 'the norm' when we can see a better way to do something. Who knows where that will take us - but for now we are delighted to be able to bring the Taniwha to those that want one. If you're still on the fence then grab a demo and go for a ride - you'll be blown away.
Have questions? Please contact us anytime - we love hearing from current and future customers.
Contact Us
We're a friendly and approachable bunch here at Zerode. Don't hesitate to reach out and ask questions. We are here to help, and are bike mad too!
Email: rob@zerodebikes.com
Phone: 021 709 489
Looking for Dealers? Go here